Nowadays, owners bring their pups everywhere. Not because we are sad to leave them (maybe a little), but because it's so much fun when we bring them. Our Natives curated their favorite drinking spots around Philly to either bring your pup or where it's socially acceptable to hang out and watch other's pups!
Each of our Natives specializes in a specific category like craft beer, fun dates, or boozy brunch. They have a deep understanding of each place they recommend to help you make a decision on what place fits you best. We ONLY show places that the Natives have vouched for and love!
Instagram/@evilgeniusbeerco
Address: 1727 N Front St, Philadelphia, PA 19122
Cameron | Philly Craft Beer Native:
"Stepping into Evil Genius is like a throw back to the 90s. They have board games we've all played as kids and their food menus are displayed on VHS cases! Their beers are cleverly named and delicious! Philadelphia's sports teams are hot this year and Evil Genius has had can releases dedicated to their success.
Evil Genius is a great place to hang out with a group of friends or even host a work event! Their tasting room is large with plenty of seating, and during the warmer months they have outdoor seating! Everyone loves drinking a good beer in the sunshine."
Instagram/@morganspier
Address: 
Ben | Drink Deals Native:
"Great atmosphere when the weather is nice. Large space with multiple bars. Usually a young professionals kinda crowd, not college-young, but still-know-how-to-have-fun young. The line can be long on the weekends by late afternoon, so try to get there early and enjoy the sunshine. After dark, the music changes and becomes a dance bar which is awesome after several day-drinking drinks."
Instagram/@memphistap
Address: 2331 E Cumberland St.
Philadelphia, PA 19125
Bowser | Philly Dog Friendly Native:
"They are a great option for a diverse crowd; great beer, vegan and vegetarian options, and a large beer garden for the pups. I mean they actually have an Instagram account called DogsOfMemphisTaproom, so they obviously are one of my favorite places to romp around with other dogs!"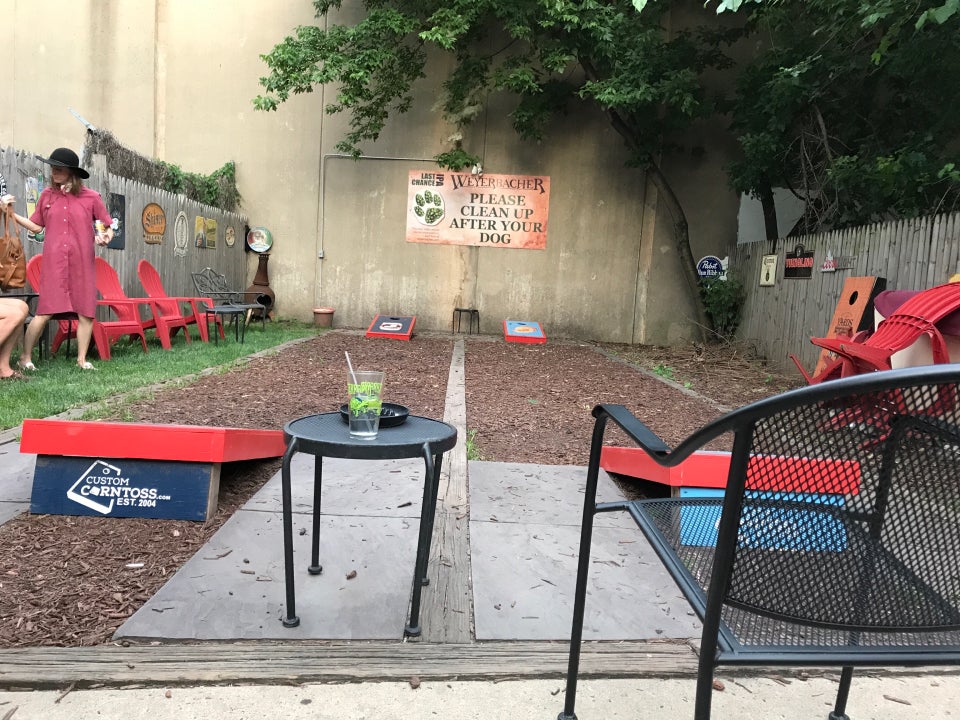 Photo: Foursquare
Address: 149 Brown St, Philadelphia, PA 19123

Bowser | Philly Dog Friendly Native:
"Just your classic chilled out Philly dive bar. One of the most dog friendly places I've experienced with a large backyard with corn hole and plenty of room for me. You won't find a single person in there that'll be mad if you bring your pup."
Instagram/@wissahickonbvrewingcompany
Instagram/@bottlebareast
Address: 1308 Frankford Ave
Philadelphia, PA 19125
Cameron | Philly Craft Beer Native:
"Bottle Bar East is a beer geeks heaven! They have over 800 craft bottles available to dine in with or to-go, which is great because that's a lot to choose from! Pretty much any beer that gets distributed in Philly they have it! They also have 15 craft beer drafts they rotate with an awesome menu filled with tacos, burgers and grilled cheeses!"
Instagram/@parksontap
Address: Traveling Beer Garden
Ben | Philly Drink Deals Native:
"Parks on Tap hosts pop-up beer gardens throughout the city from about May through September. They rotate almost every week, so it's a great way to see different neighborhoods and parks. Good beer selection and a very chill laid back atmosphere."
Dowload NativX to find more collections like this, follow your favorite Natives, and discover experiences worth talking about!